Swimming Pool Builders & Installation Specialists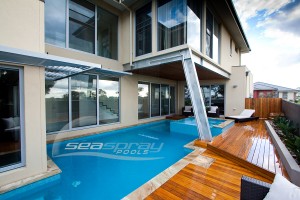 We are custom swimming pool builders in Australia. We build backyard pools in and around Melbourne and Victoria. Our custom swimming pools are affordable and provide great value for money.
At Seaspray, we take pride in offering the top of the line installations of above ground pools and in-ground pools.  Our goal is your satisfaction and enjoyment.  Swimming pool companies need to consider the area, so that they can install a pool that functions perfectly, and adds to the visual appeal of your property.  At Seaspray, we understand that a swimming pool is more than just a place to exercise; it is a place to build memories with your family – which is why we pride ourselves on our quality and professionalism in swimming pool installations.
The enjoyment your children will have when learning to swim, and the fun you will have teaching them, is an integral part of what a pool means to most families.  Just think, as much fun as a pool is for the kids, as you grow older it will also offer an ideal place to keep you fit with low impact exercise.
Our goal is to ensure you get the pool you want at a price you can afford.
Because we understand exactly how much a pool can do for you, our goal is to ensure you get the pool you want at a price you can afford.  Above ground pools can be installed virtually anywhere, while in-ground pools add to property values and offer amazing landscaping options that will increase the beauty of your garden.
As one of the most reliable swimming pool builders in Australia, we have built thousands of custom pools over the years. We are the experts in swimming pool installation and also back our pools with solid warranties. This explains why thousands of Australian homeowners have chosen us to build their backyard pools.
At Seaspray, we have taken professionalism to a new height. If you hire us to build your swimming pool, you can rest assured that you will receive excellent service from our team of experts. All of our offices are insured and licensed. In addition, our designers and architects are experts in local building rules and swimming pool installation techniques. Before we start the installation, we will offer you a written contract which specifies the payment schedules and project phases. We will also give you warranties in writing.
Modern pool safety features for peace of mind.
Our pools have modern safety features that will help you enjoy them with peace of mind. They boast of unique designs and world class facilities. Also, they have affordable price tags. Needless to say, Seaspray is the name that Australian homeowners remember when they think about building or remodeling their pools. This also explains why more and more Seaspray pools are being built in Australia each year.
At Seaspray, we are committed to making your pool dreams a reality. All of our pool designs are unique. We also ensure that they are designed according to your requirements. Our pools are designed by the best craftsmen in the industry. Our construction skills and excellent customer care service have made us the best bespoke swimming pool builders in Melbourne and Victoria.
Every Seaspray pool is unique and durable.
At Seaspray, we use the best technology and materials to build our pools. We make sure that every pool that we build is unique and durable.  We have been building custom pools for close to 10 years. And over the years, our name has become synonymous with custom pools. 
Swimming pools enhance the usability of your outdoor living space. Private swimming pools offer endless pleasure and relaxation. Swimming helps you stay fit and healthy. And that's not all – pools provide plenty of opportunities to entertain yourself and your guests with pool side parties.
If you are thinking about swimming pool installation in your backyard, contact us to know what your options are.